Ah, Easter. Choc-fest. Even before I cleaned up my diet and lifestyle, I wasn't a fan of feeding my kids chocolate.
When they were little, Easter was a time for books. Easter Bunny left them a small gift with no chocolate involved. They didn't know what chocolate was, so it wasn't hard denying them.
When my son was two, he was given a chocolate bunny, which he carried around for days, eventually wearing a hole into it, but he never once tried to eat it. It's bliss when kids don't know what they're missing!
They're very chocolate aware now of course, and I've been asked how I handle the whole sugar thing at Easter. Yes, they bring home chocolate gifts from school. Yes they were allowed to have some. The rest was thrown away, bit by bit. Once they've had some, they tend to forget it's there.
The same will happen over the Easter period. I have some PJs and a small egg for them. The Easter Bunny will leave them a trail of chocolate. They will be able to have some. The rest will disappear. They're always happy – all they really want is the surprise and the story to tell like all their friends.
They know the store-bought stuff is bad for them. They know the 10 per cent rule. They know the boundaries I set around these things – and we all get on just fine with them.
I do make alternatives available to them – a chocolate sauce, or some other creation, like these choc chews which are sugar-free and sweet-as! So here are some super sweet chocolate treats to dish out over the Easter weekend, while you drip feed the bad stuff to the bin when the kids aren't looking!
My Fast Sugar-free Choc Chews
2 cups rice puffs
1 cup shredded coconut
½ cup cacao (less if you don't like strong chocolate)
¾ cup rice malt syrup
½ cup coco oil
1 tsp vanilla
Mix and put spoonfuls into muffin cases. Pop in the fridge to set.
Here are some other delicious options – click the pics to go to the recipes
A naked chocolate cake by The Healthy Chef, Teresa Cutter
Naked and chocolate sounds wicked, but this is gluten-free decadence. Use rice malt syrup instead of the honey/maple syrup if you want a sugar-free version.
Baked tarts with raw chocolate mouse by Brenda Janschek
Brenda is a super lovely lady who is always whipping up something tasty in her kitchen. These little tarts would be a great treat to serve up over Easter. Again, not sugar-free but you can either swap in rice malt syrup, or be content that the fructose here is quite low and based on wholefoods and not refined-sugars.
Sugar-free chocolate by Lee Holmes at Superhcharged Food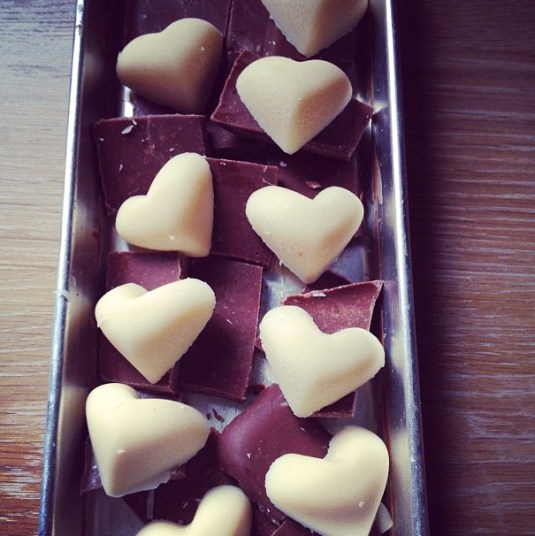 Lee uses stevia in this recipe, which is a great option for diabetics. You could try rice malt syrup too.
Healthy chocolate-coconut slice by Georgia Harding at Well Nourished
I love mixing chocolate and coconut – I was a Coconut Rough fan a s a kid, and mum made an amazing choc-coconut slice. Georgia has this recipe based on one her nan used to make. She has included a sugar-free option.
I hope you find lots of inspiration here. Don't be afraid to adjust your own recipes with healthier ingredients.
Happy Easter!