If there's one thing you want to do when attempting to clean up you food act, it's attack the pantry and fridge. Get rid of all the bad stuff, especially if you have a tendency to cave to temptation easily, and then make sure you've stocked up on alternatives.
In the first instance, you'll want stacks of veggies. Using your favourites for the most part makes sense – you know you like them and you know how to use them. If you're daring, try some new ones as you go. Just make sure you have lots of fresh produce, including fruit. The healthiest options are dark green and leafy. Lemons will come in handy. I choose organic, but if you can't go that far, at least consider it for the leafy green element (things you don't peel).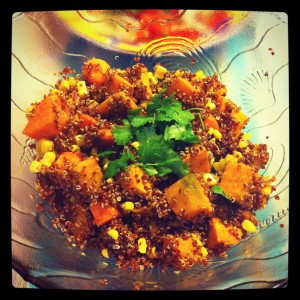 If you've read the other posts, you'll have picked up the other essentials I use, but here they are again:
Quinoa and brown rice: quinoa is a great option for breakfast, lunch and dinner as it can be sweet or savoury. It's super easy to use – you cook it just like you would rice – and as it's high in protein, much more so than brown rice, so it keeps your blood sugar levels stable and your tummy full for longer. Beans: cannellini, red kidney, and adzuki for use instead of meat. Canned are fine – just look for salt and sugar-free, organic varieties. They're also cheap. Use them in your regular recipes instead of meat.
The other standard meat replacers I use are lentils and chickpeas. Sometimes an organic, GMO-free tofu in stir fries.
A good quality stock for soups and sauces and added flavour for stir fries is a must have. I use dashi stock, or a good quality vegetable stock if I haven't got any homemade stored in the freezer.
Instead of dairy milk, I use rice or almond milk. Check the labels, especially on the almond milk as commercial brands often have sweeteners added.
Herbal, caffeine-free teas if you're a tea or coffee drinker. I buy only quality tea bags (ie not 'flavoured' tea or infusions) or I make my own. Slivers of ginger in hot water, or mint leaves of you like peppermint. Rooibos tea is like strong black tea and a favourite of mine. Raw nuts , especially walnuts and almonds but also mixed bags, as these are my munchies when I start looking for coffee or crackers. They're like my forcefield against hunger and temptation. Coconut oil and olive oil are must haves. I cook with coconut oil and use olive oil on all my salads and dressings. I buy organic, cold-pressed varieties.
OK, they're the basics, but I use a few extras. They're not necessary, I just like them.[unordered_list style="green-dot"]
Chlorophyll – this is essentially the green of green leaves and I put it in my water and drink it all day long. It aids the detox process. The one I use also has a nice slightly minty taste, so it makes it easier for me to drink extra water, which is a tad important during a detox.
Spirulina – another green element, spirulina is a sea water vegetable. It's high in protein and super nutritious. I add it to all my green smoothies.
Chia seeds – I sprinkle these on my breakfast, into stir fries, on salads, into soups and sauces (they soak up liquid so they thicken whatever you're making) and use them to make healthy sweets for the kids. They're also easy to add to smoothies. They're highly nutritious, a source of Omega 3, and they are good for cleansing.
Linseeds/flaxmeal – high in Omega 3s, I sprinkle this on cereal.
Seaweed – nori sheets and dulse strips or flakes are great for snacking if you're like me and often crave salty foods (which can indicate a lack of minerals). They're highly nutritious. I add nori to salads and stir fries and dulse to soups and stir fries.
Apple cider vinegar – I first tried this at a weekend at the Gwinganna health retreat. They serve it there in shot glasses about 30 minutes before breakfast. It's an acquired taste for sure. I splash it over salads with olive oil and lemon juice.
[/unordered_list]
[typography font="PT Sans Narrow" size="24″ size_format="px" color="#00aca1″]
The dip your toes version
[/typography]
If you feel that jumping in the deep end of detox is just a bit intimidating but you'd really like to give it a go, then just dip your toes in the water first.
Technically for me, a detox is about whole foods – so eating only 'real' foods or a 'clean' eating approach – but in the first version I did, there were some foods that weren't wholefoods but still fit within the general detox guidelines.
For example:
Gluten-free pasta – technically fits within the detox brief.
Gluten-free crackers (rice cakes), plain corn chips, gluten-free wraps and tortillas and other breads – again, fits within the brief.
Soda water – those who drink a lot of carbonated drinks might appreciate water with bubbles.
The other way is to streamline the approach to one of two sections only. Consider what elements are giving you the most grief – coffee, sugar, wine? – and commit to cutting them out for four weeks. Or set the challenge of cooking everything from scratch for a month and avoiding packaged foods.
Go smaller again if you need to – just choose the one thing that is playing on your mind. The biscuits in-between meals? Softdrinks?
You won't get the same results as a full detox, but you will get some and also the sense of achievement at the end. It'll also put you in a fabulous place to move forward and do more if you want to. And you'll be setting an awesome example for your kids.
OK, that was a super post today! Tomorrow is about strategies I use during the four weeks. And then it's showtime on Friday!
If you've decided to tackle the challenge – in whole or in part – please share with us here or on the Facebook page. Going public with your intention and sharing the experience with others is a great way to achieve your goal.